Housing Options
The Oaks Apartments at LSUA provide our residents with a unique living and learning experience. Rather than traditional dormitory-style housing, our apartments offer a balance of privacy and connection. We offer one-, two-, and four-bedroom apartments to meet the various living preferences of our residents. Each resident has their own private bedroom, regardless of apartment style. Our premium, one-bedroom apartments are perfect for residents who prefer their own space, each with one bathroom, kitchen, and living room. Our two bedrooms provide a balanced option: each resident has their own bedroom and bathroom, but shares the kitchen and living room. Our four bedrooms remain the most popular and cost-efficient style, offering residents their own bedroom, a bathroom shared between two, and a kitchen and living room space for four. These are popular for athletic teammates, pre-established friend groups, and residents looking to make multiple friends!
Please view the pictured floor plans for an overview of the apartment setups, then use the interactive virtual tours below to put yourself inside the apartment! Walk through the apartment, click on the little button for tidbits of information, or try the measurement feature to check out some dimensions! Would you rather look at the apartments in real life?
Click here to schedule your tour with Admissions!
Floor Plans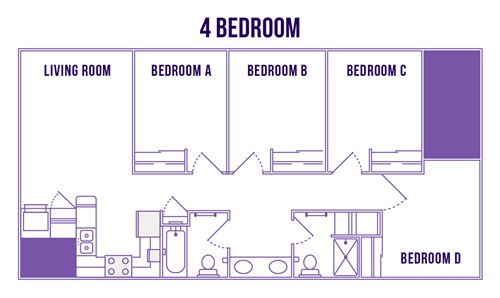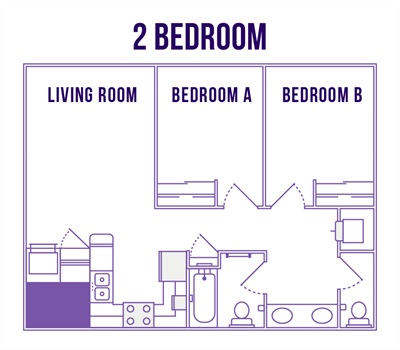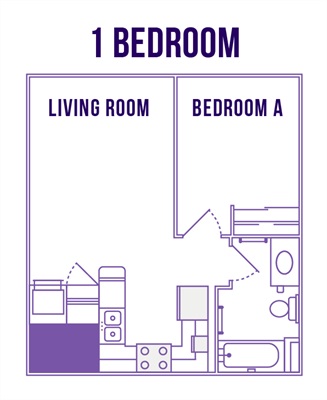 Residential Life
Contact Us
8223 Acorn Drive
Alexandria, LA 71302
Phone: (318) 767-2616
Email: reslife@lsua.edu
Office Hours
Monday - Friday: 8:00 AM - 4:30 PM

Campus Address:
8100 Hwy 71 South
Alexandria, LA 71302