Founded in 2020 by Dr. Gerard Dumancas, a Huie Delmon Trust Endowed Professor, as the LSUA Undergraduate Journal of Teaching and Research, we chose the name The Oak Leaf in 2021.
Dr. Ginger Jones was the second editor of The Oak Leaf. Her notable contributions included renaming and rebranding the journal, designing a new website, earning a National and Louisiana Endowment for the Humanities Grant to publish the journal, expanding the interdisciplinary scope of the journal, and building partnerships with the campus and Rapides Parish libraries
Dr. Jones worked tirelessly to ensure that the scholarly endeavors of the student authors were celebrated in a meaningful way. She currently applies her editing skills to judging creative writing and research journals for the National Council of Teachers of English.

One of the highlights of the LSU Alexandria campus is its centuries-old live oak trees, which keep their leaves all year long. The longevity of the oak reminds us of the qualities honored by the LSUA Generals: wisdom, strength, and knowledge. The Oak Leaf showcases the best multidisciplinary research and reviews from undergraduates and their mentors.

We are an open-access, peer-reviewed journal designed to acknowledge the achievements of LSUA undergraduate students. We also welcome submissions from the wider community. The Oak Leaf is housed in LSUA's Center for Opportunity, Research, and Experiential Learning (CORE) and is associated with the National Council for Undergraduate Research (CUR).
Our objectives:
to showcase research of undergraduate students from LSUA as well as other colleges and universities
to provide a forum for the LSUA community to express and exchange diverse ideas from various fields
to recognize outstanding undergraduate students, familiarize them with the publishing process, and encourage faculty-student collaboration
to offer undergraduate researchers in all disciplines the opportunity to communicate their experiences and results to general as well as academic audiences worldwide—the final and very important step in the research process
The Oak Leaf is multidisciplinary!
All areas of research and teaching are encouraged. For more information or to submit your work, email Dr. Christof Stumpf, cstumpf@lsua.edu.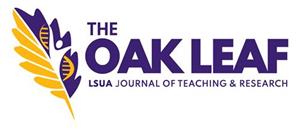 Contact
Dr. Christof Stumpf, Editor-in-Chief
Email: cstumpf@lsua.edu