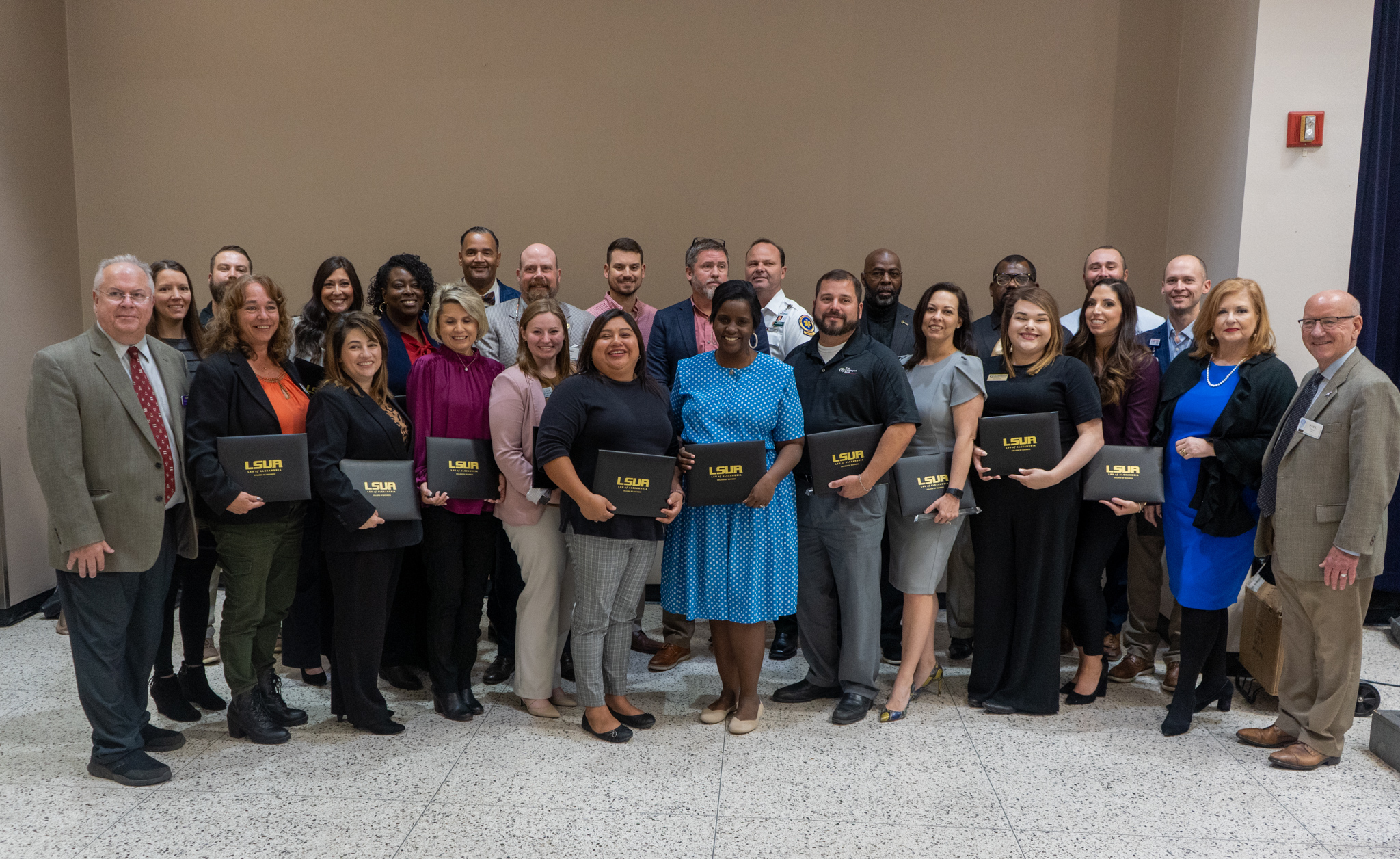 ALEXANDRIA - The Rotary Club of Alexandria recognized the graduates of Leadership CenLA at this week's meeting. Thirty-four Leadership CenLA participants earned Certificates of Completion from LSUA's College of Business. Dr. Randall Dupont, Dean of the College of Business, along with Chancellor Dr. Paul Coreil and Chamber of Commerce Executive Director Deborah Randolph presented the awards.
This was the first leadership class hosted by the LSUA College of Business. Stephan Fontenot, Executive Director of the Alexandria Housing Authority, opened the ceremony with a beautiful rendition of the national anthem. Dupont reviewed the topics, speakers, and leadership concepts presented over the eight-month-long program. In addition to certificates being awarded, the winning team members of a highly competitive peer-to-peer simulation were presented with the Strategic Leadership Award for outstanding performance in managing and leading a global enterprise. Recipients of the leadership award are Joseph Borne, Jennifer Cowley, Sekuo Ma'at, Jeffrey Pogue, and Deron Thaxton.
The 34 participants in the eight-month program represented a diverse cross-section of the local community, including business owners, non-profit administrators, financial managers, and many more. The leadership series hosted morning guest speakers from across the state with expertise in management, education, workforce development, crime management, finance, human resources, and other topics pertinent to community leaders. Afternoon sessions developed leadership skills and encouraged participants to openly communicate about both their growth and struggles as a leader.
Dr. Dupont and LSUA's College of Business would like to congratulate the graduates of the 2021 Leadership CenLA program: Lindsey Bertrand, Joseph Borne, Toby Brazzel, Shondria Cheatam, Robin Cosenza, Jennifer Cowley, Brandi Dubea, Stephen Fontenot, Melynda Gremillion, Andre Guillory, Mandi Guillory, Charles Jones, Jaimie Lacombe, Leisa Lawson, Sekou Ma'at, Titan Marler, Liz Mileshko, Dawn Rabalais Olinde, Jeffrey Pogue, Michelle Purl, Ryan Riche, Grace Semones, Benjamin Smith, Courtney Squyres, Thelma Sumbler, Sarah Swain, Deron Thaxton, and Justin Whitcher.
"We would like to thank the Alexandria Rotary Club for its tradition of recognizing the emerging leaders of central Louisiana," Dr. Dupont concluded.
Dr. Coreil often remarks, "The leadership of Dr. Dupont and the College of Business driving innovative approaches to serving the needs of our local businesses and communities is exactly what an institution like LSUA should be doing in Central Louisiana."
The application to be part of the Leadership CenLA Class of 2022 is now open! For more information, visit www.lsua.edu/continuingeducation/leadershipcenla, email leadershipcenla@lsua.edu, or call 318-427-4441.