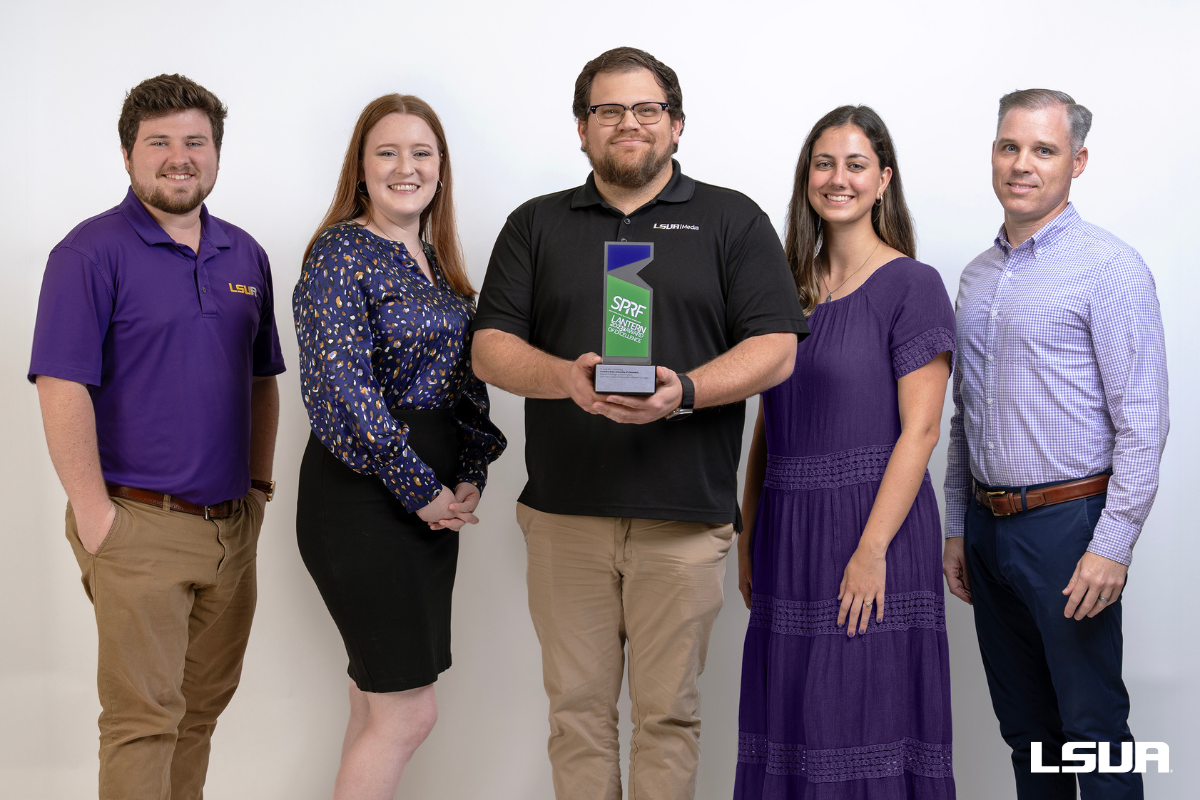 The Division of Strategic Communications at LSUA is proud to be recognized with a Lantern Award of Excellence from the Southern Public Relations Federation (SPRF). This recognition, presented at the fall conference in Huntsville, Alabama, underscores LSUA's dedication to outstanding public relations.
SPRF, a network of over 1,400 public relations professionals from Alabama, north Florida, Louisiana, and Mississippi, serves as the premier organization for PR practitioners in the Gulf South. LSUA's StratComms team is a member of the Public Relations Association of Louisiana's Central chapter.
LSUA's StratComms team secured a Lantern Award for their long-term marketing campaign, "Within Reach. Without Limits," designed to enhance LSUA's reputation and online presence through a strategic blend of online and traditional advertising. The campaign, encompassing video, digital, and print ads across nine academic concentrations, spotlighted LSUA's affordability and unique degree programs and emphasized its vibrant campus culture.
Chase Dyess, Marketing Coordinator at LSUA, said, "We developed a comprehensive suite of creative content tailored to specific program interests. To capture the audience's attention, we produced high-quality videos, graphic design, and messaging that highlighted unique programs, affordable tuition, and campus culture."
"LSUA is blessed with an extremely talented and dedicated Strategic Communications team that always goes above and beyond in everything they do to advance LSUA's mission," said LSUA Chancellor Paul Coreil. "There is no university communications team statewide more deserving of this prestigious Lantern Award from SPRF. All of us at LSUA extend our heartfelt congratulations to Adam Lord, Assistant Vice Chancellor for Strategic Communications, and the entire team. Their outstanding work clearly helped us achieve our goal of enrolling over 5,000 students two full years ahead of our 2025 strategic plan!"
The Lantern Awards, granted annually by SPRF, celebrates exceptional work in various PR categories. Professional entries are meticulously evaluated in thirty distinct categories, encompassing long-term strategic programs, short-term strategic programs, and tactical materials. The judging process is conducted by PR practitioners outside SPRF's four-state region and is based on the individual merit of each submission.
Written by Adam Lord | LSUA Strategic Communications
Photo credit - Nathan Parish | LSUA Strategic Communications
Pictured - (L/R) Nathan Parish, Brianne Lashley, Chase Dyess, Mira Parks, Adam Lord