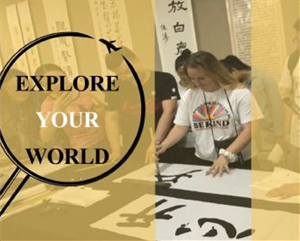 LSUA's Exchange Visitor Program offers students the opportunity to expand their academic experiences by visiting and exploring other countries. This program is both personally and professionally enriching. Studying in another country is easier than ever.

Discover your potential and join LSUA's Exchange Visitor Program!
China
Japan
About LSUA Study Abroad Program
LSUA Study Abroad program is a two-week trip to one of LSUA's bilateral partner universities. The participating students will have opportunities to travel and visit historic sites both within and outside the host university.

During their time at the partnering university, LSUA students will be able to attend several cultural classes. These classes will discuss various topics, such as language, calligraphy, music, and arts. Students will also be able to participate in events and activities on the partnering university campus.

LSUA Study Abroad Program Objectives
To promote international education through cultural exchange.
To foster a genuine appreciation for different perspectives and an understanding of cultural differences.
To inspire students to discover their maximum potential, develop connections and lifelong memories with the people and places we visit.
To develop connections and lifelong memories with the people and places visited.
To expand opportunities for professional networking and promote LSUA globally.
Why Study Abroad
Understanding the complexities of other cultures will aid you in any field you study, as well as bring new perspectives to your life.
Contact Us
Mulder Hall, 325
8100 Hwy 71 South
Alexandria, LA 71302

Phone: +1 (318) 473-6552
Email: ncox@lsua.edu