SPERO
Special Program for the Enhancement of Resources and Opportunities
for Young People with Developmental Disabilities
LSUA's SPERO program aims to bring hope to the lives of young people with developmental disabilities—by providing them with the resources and opportunities that will help them lead more independent lives and take up meaningful and rewarding employment in their communities. The program is largely funded through grants and donations.
SPERO Eligibility:
Young people from ages 18 to 28
Has an identified developmental disability
Has completed high school with a high-school diploma, career diploma, certificate of achievement or equivalent
Ineligible for regular college admission
SPERO Students will have the opportunity to:
Audit college-level classes
Attend special program classes designed to improve skills for daily life, interpersonal relations, and employment
Participate in on-campus events and activities
Receive vocational training on campus or at approved off-campus venues
SPERO 2023-2024 Application Process
LSUA is happy to announce that the SPERO program is now accepting applications from prospective students for Fall 2023. The application form can be downloaded by clicking on the button below:
Please ensure that all sections of the form are completed. The form, along with additional documents requested, must be mailed by April 28, 2023.
Completed Recommendation Forms should be sent by separate mail no later than April 28, 2023. The Recommendation Form is provided on pages 18-20 of the Application Form.
All application documents should be mailed to the address below:

SPERO Program
Office of Academic Affairs
Louisiana State University at Alexandria
Mulder Hall, Room 130
8100 Highway 71 South
Alexandria, LA 71302
Please be aware that a limited number of students will accepted for Fall 2023.

Learn More

Brittany SodenDirector of SPERO
(318) 427-4475
bsoden@lsua.edu
SPERO is excited to welcome its inaugural Freshman class of 2022!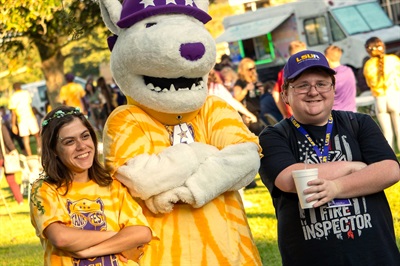 SPERO is seeking student mentors to assist and support program students while they are on campus.
Applicant must have an overall college GPA of 2.5, have at least sophomore status, and provide a letter of recommendation from a faculty or staff member.