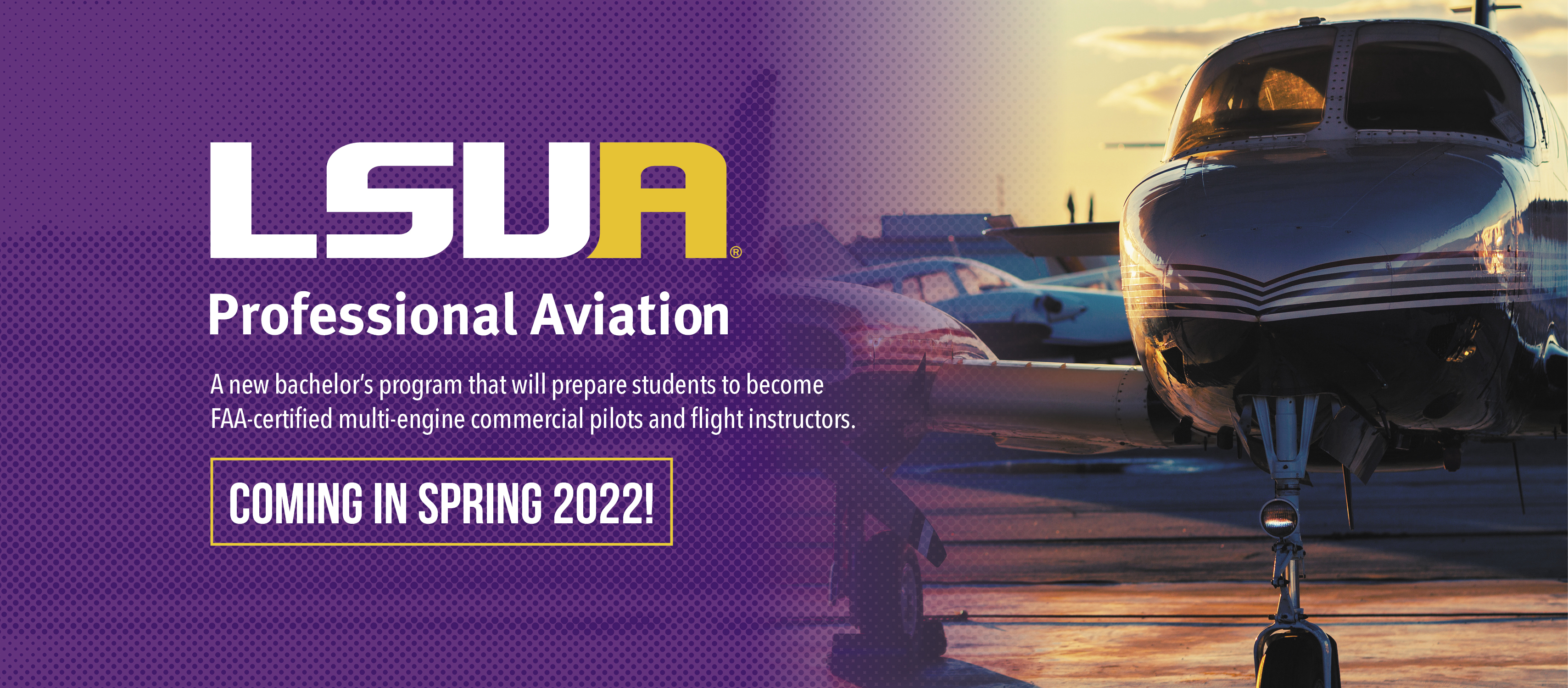 Professional Aviation
LSUA plans to launch a program in Professional Aviation in Spring 2022. The new program will prepare students to become FAA- certified multi-engine commercial pilots and flight instructors.
Students will take flight courses with Acadian Aviation, an FAA- approved and LSUA-affiliated Part 141 flight school. All required aviation lecture courses will take place in Mulder Hall on the LSUA campus.
The aviation industry is expected to need more than 260,000 new pilots over the next decade. So now is a great time to earn a degree in professional aviation!
Prepare for Takeoff!
In Fall 2021, LSUA is offering Introduction to Aerospace, a new course open to students who wish to acquire general knowledge of aviation and learn about career opportunities in the field.
The course, AVIA 1020, will be offered from 11:00 -11:50 AM on Tues/Thurs in Mulder 224. No prerequisites!
For more information about the program, contact Dr. Eamon Halpin:
Call: (318) 767-2603
Email ehalpin@lsua.edu
Visit: Mulder 130
Program Quick Facts
LSUA plans to launch a baccalaureate-level program in Professional Aviation in Spring 2022.
All program students will earn the following FAA certifications and ratings:
• Private Pilot Certificate
• Instrument Pilot Rating
• Commercial Pilot Certificate
• Flight Instructor Certificate
Students will also have the option of earning the following FAA ratings:
• Flight Instructor-Instrument Rating
• Multi-Engine Rating
• Multi-Engine Flight Instructor Rating
Students will take flight courses with Acadian Aviation, an FAA-approved and LSUA-affiliated Part 141 flight school.
All aviation classroom courses will be taught on the LSUA Campus by an FAA-certified flight instructor who holds a Master of Science in Aeronautics.
There are no special admission requirements for participation in the program. Any student who is admissible to the university can pursue the Professional Aviation curriculum.
Before commencing flight instruction, each program student must meet Department of Homeland Security citizenship and identification requirements.
Prior to admission to the program, each prospective student will have an opportunity to talk to a program advisor about funding options.
Program students will have opportunities to acquire (paid) work experience in aviation-related fields at Alexandria International Airport, both during and between academic semesters.
Industry experts are predicting a short term need for 27,000 new professional pilots starting in late 2021 and a long term need for 260,000 new pilots over the next decade. The acute demand for pilots means that LSUA's Professional Aviation students can be assured of a return on their investment in education and training
Benefits & Incentives
Earn competitive pay with a flexible work schedule including nights and weekends.
Tuition assistance available following training and certification while maintaining a 3.0 GPA.
Undergo a disciplined training program with a nationally recognized aviation training certification.
Mentoring by an experienced leader, manager, and role model.
Network with aviation pros for post-grad employment.
Resume-enhancing aviation knowledge, skills, and experience.
Verify that an aviation career is right for you before you complete your studies.
Receive ground-up aviation experience and a written job reference directly applicable to a professional aviation career.
All while pursuing a four-year baccalaureate program in professional aviation at LSUA.
Selected Training/Certification - Derived Skills & Knowledge
Radio procedure and phonetic alphabet.
Aircraft identification, towing, and safety.
Hand/arm marshalling signals to park aircraft.
Aviation language, airport terminology, and flight tracking technology.
Fuel safety, testing, and refueling procedures for aircraft of all types including: military, corporate, airlines, and general aviation.
Operating different ground service equipment including power units, starting units, water, lavatory service, portable air conditioners, stair units, and more.
In partnership with: