The ASN and RN-BSN nursing programs at Louisiana State University at Alexandria, LA is accredited by the:
Accreditation Commission for Education in Nursing (ACEN)
3390 Peachtree Road NE, Suite 1400
Atlanta, Georgia 30326
Phone: (404) 975-5000

The most recent accreditation decision made by the ACEN Board of Commissioners for the ASN and RN-BSN nursing programs is Continuing Accreditation.
Louisiana State Board of Nursing
The LSUA School of Nursing RN-BSN program is approved by the Louisiana State Board of Nursing.
The Louisiana State University of Alexandria (LSUA) School of Nursing ASN program has been placed on a one-year administrative probationary status by the Louisiana State Board of Nursing (LSBN), beginning February 16, 2023. This is due to a one-cohort decline in the NCLEX exam pass rate for the first-time test takers of the Fall of 2021 cohort. Testing in calendar year 2022, this cohort's rate fell below 80% to 64.86%. The Spring 2022 and Fall 2022 cohorts have already rebounded, reflecting the program's historically high pass rates. Probationary status will allow the program to review its curriculum, address student deficits and licensure exam preparation, and resolve other factors that may impact student success. Probation with LSBN has no impact on LSUA's ACEN accreditation status. The LSUA School of Nursing remains fully accredited.
The NCLEX pass rate for the school has averaged 89.1% over the last eight years. The decline in the pass rate for the Fall 2021 cohort was an anomaly likely as a result of completing three of four semesters of remote learning during COVID restrictions and being the first cohort of students taking courses in the newly implemented Concept-Based Curriculum (see Figure 1). To address the concerns that led to the probationary status, the School of Nursing is taking proactive measures such as intentional NCLEX prep groups, proctored pre-tests and post-tests, and assigning students 200 NCLEX-style questions weekly. The school has also hired a full-time Student Success Coordinator and hosts live NCLEX reviews. LSUA School of Nursing is committed to providing high-quality education to its students.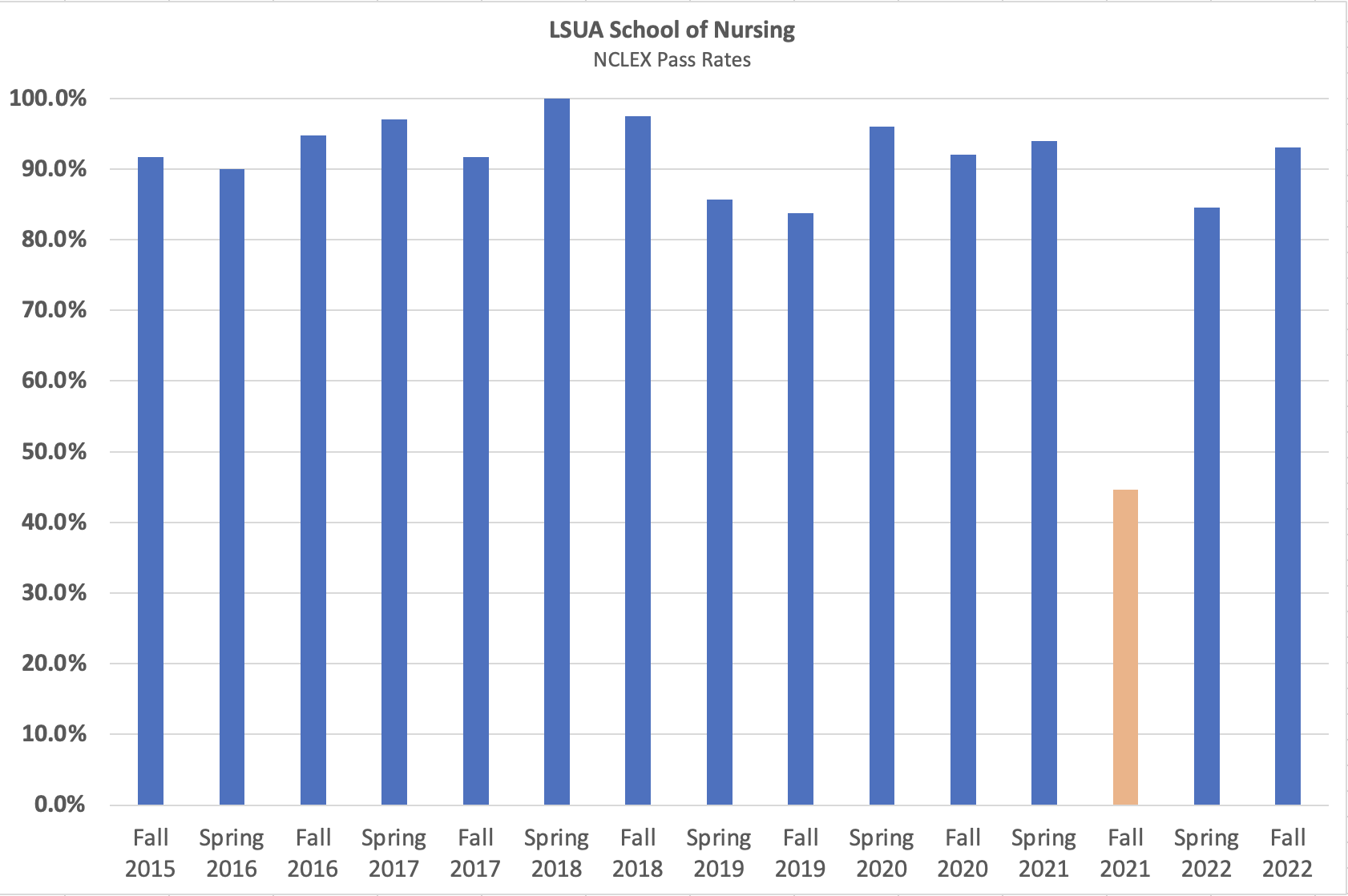 Contact
Louisiana State Board of Nursing
17373 Perkins Road
Baton Rouge, Louisiana 70810
Phone: (225) 755-7500