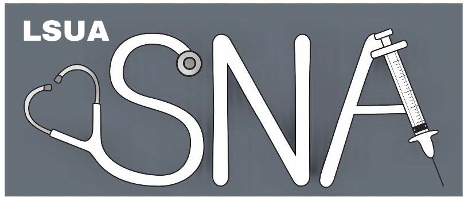 LSUA SNA is open to all pre-nursing and nursing students. Our purpose is to enhance nursing education through mentoring and community service, as well as promoting social and professional development.
SNA members convey standards, ethics and skills that students need to become responsible and accountable leaders and members of the profession of nursing. SNA members are advocates for high quality, evidence based, affordable and accessible health care. They also advocate for and contribute to advances in nursing education.
SNA members are nursing students who are prepared to lead the profession in the future.
There are many benefits of being a member of LSUA SNA/NSNA/LASN:
Scholarship opportunities
Discounts on school supplies, books, scrubs, malpractice insurance hotels and car rentals
https://www.nsna.org/membership-benefits.html
Study Help from other members
Broadening knowledge of the nursing profession
Opportunities that will help with preparation for the future
Sharing the experience with others that are like-minded
Have a sense of belonging and support
Career Building
Graduation Cords
Participate in several professional conventions: LASN conventions, NSNA
Annual/MidYear/Leadership Conventions
Have a voice and the power to change
Assess to Professional Role Models
Leadership Opportunities
Community Service/Outreach Opportunities
Automatic monthly subscription of Imprint (NSNA's official magazine)
Free online portfolio management
How do you become a part of this elite group?

Step 1: Go to www.nsnamembership.org and join.
Step 2: Email smankin@lsua.edu with NSNA membership number.
Once you've become a member you will get information on upcoming meetings, events, community service projects, and fundraisers.
Rep(s): Skyler Braswell, smankin@lsua.edu
Contact Number: (318) 458-9314 or (318) 427-4455